GrowthWheel: A Visual Tool for Effective Business Decision Making and Management
Business owners and managers make decisions each day that impact the success and growth of their companies. Making the right decisions can be challenging, especially when there is a lot of information to digest and many options to consider. This is where GrowthWheel comes in.
GrowthWheel is a visual tool that provides a structured approach to decision making and business management. The tool helps to quickly identify and prioritize key challenges, and to develop and implement action plans to address these challenges. Starting with the top four basic business challenges all companies must navigate – Business Concept, Customer Relations, Organization, and Operations – the GrowthWheel tool then breaks those down into 20 Focus Areas. This gives a 360° view on business decisions and maps out the specific areas your business needs to work on.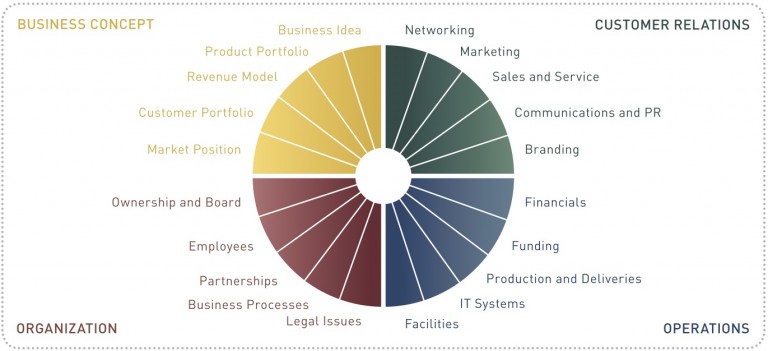 The visual nature of this decision-making tool makes it an easy and powerful method for quickly understanding a business's strengths and weaknesses and formulating the steps needed to address them. It's an excellent framework for setting and measuring goals, which can help a business stay focused and on track to success.
Because GrowthWheel is easily customizable to the specific needs of each business, it can be used for new or established businesses. This flexibility, paired with the expertise of a certified Valley SBDC advisor and a range of GrowthWheel resources such as templates, checklists, and best practices information can help give your business a competitive edge by cultivating better and faster decision-making, more effective operations, and increased agility.
What certified advisors have to say about GrowthWheel:

Ready to get started? GrowthWheel is a perk that all SBDC advising clients can take advantage of when working with an SBDC advisor! There is no fee involved, and your advisor can walk you through the various aspects of the tool to help you maximize what it can do for your business. Visit our Advising page for more information about signing up.
Read more about the various tools the SV SBDC has to offer clients in these articles: