Small Business Resiliency Team (SBRT)
The Small Business Resiliency Team (SBRT) provides expanded business support services and technical assistance to area businesses in the wake of COVID-19 challenges. The program deploys Business Resiliency Navigators to guide growth-oriented businesses through a dedicated and well-designed process for achieving incremental and sustainable growth throughout the pandemic recovery period. Navigators will work directly with small businesses, assisting with E-commerce, Financial Management, and Marketing needs. In addition to providing assessments, development of action plans, strategic counseling, and targeted training, the program will provide for services such as accounting, bookkeeping, website development, or e-commerce assistance rendered by industry experts as recommended by the SBRT.
Black and Brown Owned Business Growth Program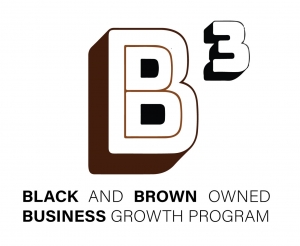 The Black- and Brown-owned Business Growth Program (known as B-Cubed or B³), is an initiative of local partners from the Shenandoah Valley Small Business Development Center, City of Harrisonburg – Economic Development, Harrisonburg Downtown Renaissance, and Harrisonburg Rockingham Chamber of Commerce's Diversity Council. The program provides business support to underserved members of our community with the goal of increasing business acumen, building business networks, and distributing grant money to invest in their businesses.
Assistance includes a mix of business plan development or improvement, marketing guidance, technical assistance, micro-loans, small grants, mentorship, and networking support, all delivered and customized to the businesses' current needs.
The first cohort of participants included six entrepreneurs of established and newly started businesses located in both the City of Harrisonburg and Rockingham County. Assistance provided to businesses included:
A deep dive assessment of needs and identification of next steps for success.
Business counseling with a Shenandoah Valley Small Business Development Center business advisor to discuss goals, needs, opportunities for growth, and a path forward.
Free design assistance and product photography.
Appointments with business experts that offer coaching on topics ranging from marketing to bookkeeping.
Potential for mini-grants.
Pairing with existing Chamber of Commerce members to learn the benefits of Chamber membership and networking events.
The program is open to any existing Black and Brown owned business located within Harrisonburg or Rockingham County. Similarly, any Black or Brown individual residing within the community who is seeking to start a business in the Harrisonburg-Rockingham metro area is also eligible. A second cohort is expected to be assembled in late 2021.
Update as of 4/28/21