Mar
2
Thu
First Thursdays with the SBA

@ Virtual Webinar
Mar 2 @ 12:00 pm – 1:00 pm
Topic: Market Research w/ Census data and other free tools
Grab your lunch and join us the first Thursday of each month to learn more about SBA programs and network with other small business owners.
Market research is an integral step in creating your business plan, identifying your competition, and identifying your market. In this workshop we will cover free resources to find market research data using the following databases:
Census Business Builder
International Trade Data
Trade Group Data
ESRI
Speaker(s): Martin Short, Lead Economic Development Specialist & Public Information Officer
If you need further assistance or have a question, please contact us at (540) 654-1383
Mar
23
Thu
Introduction to Schedule C and Business Recordkeeping

@ Virtual Webinar
Mar 23 @ 11:00 am – 12:00 pm
Good recordkeeping plays a pivotal part in the success of your business, and it also plays a huge role in the preparation of your income tax return. During this presentation we will do a brief overview of Schedule C, Profit or Loss from Business, and discuss recordkeeping for your Schedule C.
During the presentation we will address:
the uses of recordkeeping
how to calculate gross profit and gross income
how to calculate net profit or loss
how to identify and deduct expenses
how to document income and expenses
recordkeeping timeframes
A confirmation email with the Zoom login information will be sent after registration, please be on the lookout for it.
---
Presenter: Anika Pompey, Senior Stakeholder Liaison with the Internal Revenue Service (IRS)
Mar
28
Tue
Start Smart Workshop

@ Virtual Webinar
Mar 28 @ 12:00 pm – 2:00 pm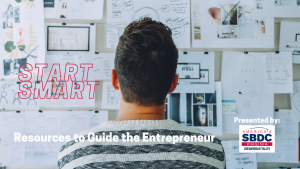 Do you reside in the Shenandoah Valley area of Virginia and are thinking about starting a new business?
Do you have questions about how to move forward?
Are you considering moving your hobby into a more structured business form?
Have you already started your small business and now realize you may have missed a few things?
Your Shenandoah Valley SBDC has answers, information, and resources to help!
In our Start Smart Workshops, we discuss the path to good decisions and a successful start. You'll learn to take a thorough 360° approach to your business and all its components – from product development to target marketing to financial projections and bookkeeping. We also cover the regulations and registrations you need to know.
Follow-up appointments are then available with SBDC business advisors to focus on your individual business growth needs.
Please find the Zoom link and review PDF Workbook attached in the reminder email 48 hours in advance. Please let me know if you are unable to attend or have questions via email to duganaj@jmu.edu
Thank You! Allison Dugan, Shenandoah Valley SBDC