Originally published by the Virginia SBDC December 17, 2021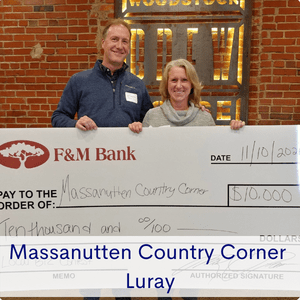 Jeff and Kristin Gaulard's Massanutten Country Corner (MCC), which opened in 2017, experienced an unexpected upward trend during the COVID pandemic. "The pandemic had the opposite effect for us — our business actually increased during COVID," Kristin says.
The Gaulards believe that the Shenandoah Valley SBDC's advice led to that upturn. "Jeff worked on a business plan with Business Advisor Sara Levinson before we even bought the property," Kristin says.
A former 1960s-style roadside gift shop, the property included four buildings, all in need of renovation. "Jeff knew how to do the work to renovate, but our retail experience was limited to selling our Cork to Barrel home décor items at wine festivals and craft shows," Kristin explains.
The Gaulards knew they would need more knowledge to run a traditional small business. Financing was first on the list.
"With advice from the SBDC, we were able to get a People Inc. microloan of $50,000 for renovations and inventory," Kristin explains. "Sara also helped us decide what we should do with the four buildings we had. We decided on a farm market for the garage, and we thought we could use the building out back for a garden shop." Those decisions would later lead to success.
"Until COVID, business was really slow," Kristin says. "April 2020 was our first really busy month — in May our business more than tripled!"
When word got out that MCC had local meat, eggs, and produce for sale, customer traffic increased. "People who were avoiding the main stores started shopping at our farm market," Kristin recalls. "We were also selling plants and gardening supplies in our garden shop. And, since people were at home and getting into gardening, that did very well also."
As business increased, the SBDC helped MCC secure a Page County grant of $4,000 for technology updates. "Previously we were doing a handwritten inventory," Kristin notes. "We used that grant for a new computer and a couple of registers." Future plans include a café opening in the spring.
Since the pandemic began, Kristin reports, business has continued to improve. "The first year we barely made $10,000," she says. "We're up to $300,000 now."
Jeff and Kristin credit the SBDC for helping them achieve that success.
"The SBDC has been there to support us every step of the way," Kristin concludes. "I can't imagine starting a business without them."