U Fit: A New Kind of Work Out for Rockingham County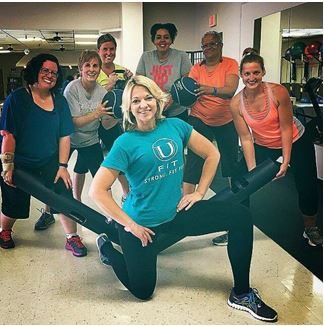 As someone with years of experience working in gyms, Dawn Flowers has always enjoyed giving private workout sessions. It was this passion for personalization that ultimately inspired her to open her own, small-group training facility.
At first the idea seemed far-fetched. She questioned if it was an achievable feat, but deep down she knew that she could offer clients more as a personal and group fitness trainer out on her own. She visited the SV SBDC to re-assess her business concept and get help with financials. At this point, she had just opened U Fit, LLC in a small rented space near an industrial park.  Now, U Fit is a full-fledged training facility with over one hundred regular clients and has cultivated a highly successful Weight Loss Accountability program.
The process was not as easy as it sounds. Like any business owner, Dawn confronted many obstacles. Since opening in 2015, U Fit has moved locations twice. Facing issues with leasing agreements and then discordant neighbors, Dawn went through a highly stressful process of finding the right location.  "I called Allison Dugan out of desperation during this time period," said Flowers, "I didn't know if I should move that second time to a third location or just close. She helped me realize that U Fit's unique atmosphere and client loyalty would carry to any appropriate location."
What made this transitional phase even harder was the fact that a new interval training center moved into the region at the same time. This worried Dawn and she began exploring memberships and offering discounted packages in direct competition with those other gyms. However, with the help of the SV SBDC team, Dawn was able to re-focus and center on her core values that keep her customers returning.  "Allison kept asking me why. Why did I want to change services and prices and make my product more like theirs? Questions like this brought me back to the core reason why I started U Fit.  A deeper understanding the needs of my current clients helped me make clear decisions moving forward."
Dawn proudly trains a variety of clients who have had their lives transformed. Pam Lewis, who has been training for 19 months and lost 185 pounds to date explains "U Fit provides an atmosphere that is safe, secure and non-judgmental.  You are welcomed by every person there! Dawn is outstanding at determining, coaching and encouraging you at your fitness level while being able to push you beyond your limits."
https://www.valleysbdc.org/wp-content/uploads/2016/12/Group-Pic-e1481836954403.jpg
326
324
Allison Dugan
/wp-content/themes/sbdc-enfold-child/images/sv-sbdc-logo-fixed.svg
Allison Dugan
2016-12-14 10:30:23
2021-03-17 10:18:51
U Fit: A New Kind of Work Out for Rockingham County