For Broad Porch Coffee Company's owners Jill McMullan and Phil Duntemann, starting a business was about more than just creating a great, ethically sourced coffee product. Providing customers with a way to help tackle the world's plastic waste problem and growing a small start-up business in slow, steady increments were a big part of their business model. To achieve the kind of success they wanted, Jill and Phil contacted the Shenandoah Valley Small Business Development Center (SV SBDC) for business consulting.
Business Consulting Helped Owners Ask the Right Questions
The SV SBDC assisted with the nuts and bolts of how to start a small business as a partnership, such as dividing responsibilities, creating individual roles and expectations, and acquiring relevant business skills. Phil acknowledges the value of the assistance.
"Having the help of the SBDC allowed us to come up with some of the questions that we needed to ask ourselves and each other. I think it was awesome to have them as a resource."
Broad Porch Coffee Company is a great example of how growing a small business in well-planned and manageable steps can minimize risk and maximize potential. Jill and Phil met as coworkers at the Local Chop & Grill House restaurant and began conversations about a mutual interest in beverages. Phil had been roasting coffee as a hobby and Jill had visions of starting a mobile beverage company out of a recently purchased trailer. They planned to sell Phil's roasted coffee out of Jill's trailer, but when a retail space became available at the Agora Downtown Market of Harrisonburg, they jumped at the chance to put down roots.
From Humble Beginnings to Sustainable Growth
In February 2017 they began building the space themselves with the help of Jill's father (who is a carpenter). Jill acknowledges their humble beginnings.
"When we first opened, I like to think of us as the equivalent of a lemonade stand. We had hot and cold coffee and a hand-painted paper banner."
Ever since that small start, Broad Porch Coffee Company has added an expanded seating area, an espresso machine, custom mugs, merchandise, and an online shop. In the future, they're hoping to sell food alongside their freshly roasted coffee. The partners agree that the slow, steady process has worked for them.
"It was a slow, small start but the growth has been encouraging… Our business model is slow growth, safe growth."
Business Advising is About Listening
The business advisors at the Shenandoah Valley Small Business Development Center recognize that providing effective small business consulting is as much about listening to and nurturing the vision of the owners as it is providing hard skills for success. Knowing that Phil and Jill not only valued the quality of the product but wanted to promote minimal waste and mindful business practices as well, the SV SBDC was able to offer targeted small business help that made a difference.
Keeping up with Broad Porch Coffee Company
NEW LOCATION NOW OPEN 20 W. MAIN ST. LURAY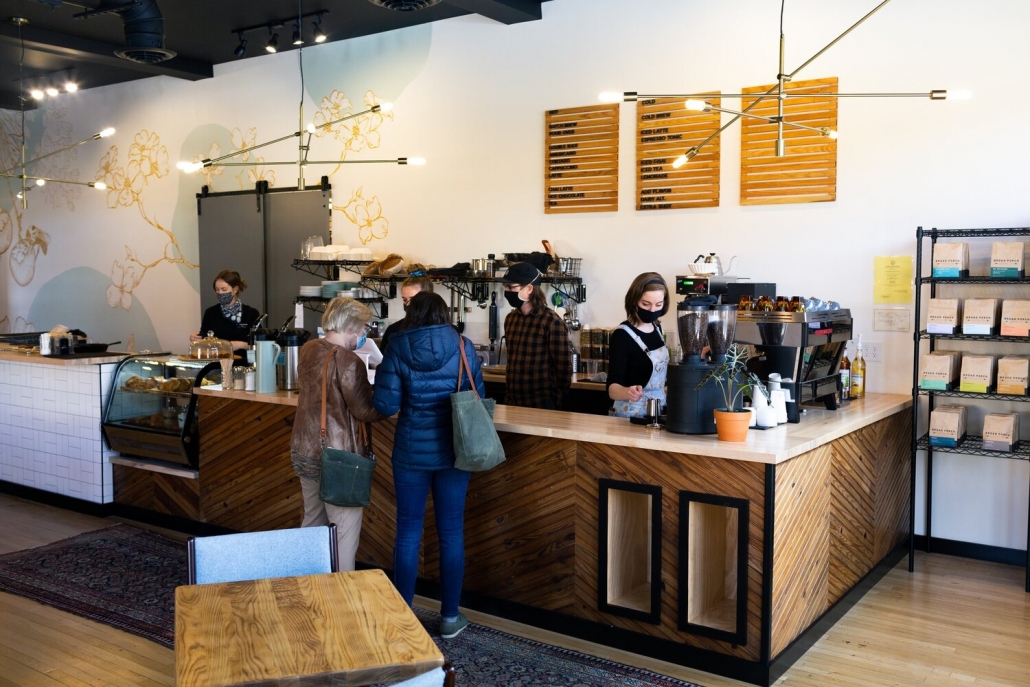 Full coffee menu and food selection! Open 7 days a week, 8am-3pm (9-2pm on Sunday). Expanded hours may follow.
Counter service for grab & go or seating overlooking the Hawksbill Creek is available. Broad Porch coffee is freshly roasted in their downtown roasting facility. They offer ten different beans from around the world that they roast from light to dark. Beans can be purchased in-store or online.  They grind for free so you can make coffee on any home machine.
Espresso drinks are made on a brand new La Marzocco Linea PB commercial machine. Drip coffee is freshly brewed multiple times a day. Customers can choose from a wide selection of cold drinks from cold brew coffee, ice tea, and canned drinks.
At Broad Porch Coffee Company, customers receive a discount for bringing their own containers instead of relying on heavily plastic take-out cups, stirrers, and straws. Stop by the Agora Downtown Market at 165 South Main Street, Harrisonburg, or visit their new location at 20 West Main Street, Luray. You can also find their coffee at Heritage Bakery, GrayJay Provisions, or Friendly City Food Coop, or shop their online store. (Check out their coffee subscription service!)  Planning an event, wedding, business conference, or festival? Book the coffee trailer to be on site.
Visit their website or follow them on social media for more info and the latest COVID updates.