Never Enough Time for Social Media? How to Automate Effectively

There is no shortage of advice on how to fit social media marketing into the busy schedule of a small business owner. Often it is difficult to carve out time to post, much less keep up with trends and skills needed to be effective. The good news is that successful social media automation just takes a little planning and a commitment to keeping it on your to-do list in order to keep your social media channels working for you.
START BY REMINDING YOURSELF OF THESE IMPORTANT PARAMETERS
What you are trying to accomplish? A clear objective will help crafting your content go a lot faster. Some common social media objectives are:
Brand building to increase name recognition and associate it with your product.
Attracting new customers by driving people to social sites or website.
Educating about a product, service or industry.
Supporting sales by answering customer questions and showing them how to use your products or services.
Leveraging customer loyalty by giving them a place to talk about their experiences and encourage others to purchase from you.
Who you are talking to? Knowing who you are talking to on social media can help you avoid wasting time on content they don't care about.
What's their point of view? What do they care about, what do they do? What problem can your product or service solve for them?
Consider influencers, buyers and end users. Who is making recommendations and sharing content with your current or potential customers?
Know where your audience engages on social media. Compare social site demographics with target market demographics to determine the best channels to reach your target market.
CREATE CONTENT "POCKETS"
Develop categories of hot topics, frequently asked questions, & key messaging you want to convey.  What kinds of things do your customers want to know about you, your staff, your products, services, and related subjects? Make a list. These will act as prompts for content creation.
Use and reuse what you have. Develop an eye for aspects of your daily routine that could be converted to social media posts. You don't need to post them immediately, just create a way to save the ideas for later.
Use Facebook Business Page News Feed, hashtags, curation sites, and Google Alerts to collect content. Using the categories you've created, spend a little time researching applicable social accounts and hashtags to follow that will yield good shareable content.
Like possible content pages as your Business Page INSTRUCTIONS
View your business page news feed by adding "/news_feed" to the end of your Business page URL. EXAMPLE: https://www.facebook.com/ValleySBDC/news_feed
Follow hashtags on Twitter and Instagram for ideas.
Find a content curation site you like. Here's a list of some of the best, many are free.
Set up Google Alerts for key topics.
Smartphone apps and browser buttons let you save or post content on the go rather than searching for it later.
PUT IT ALL TOGETHER.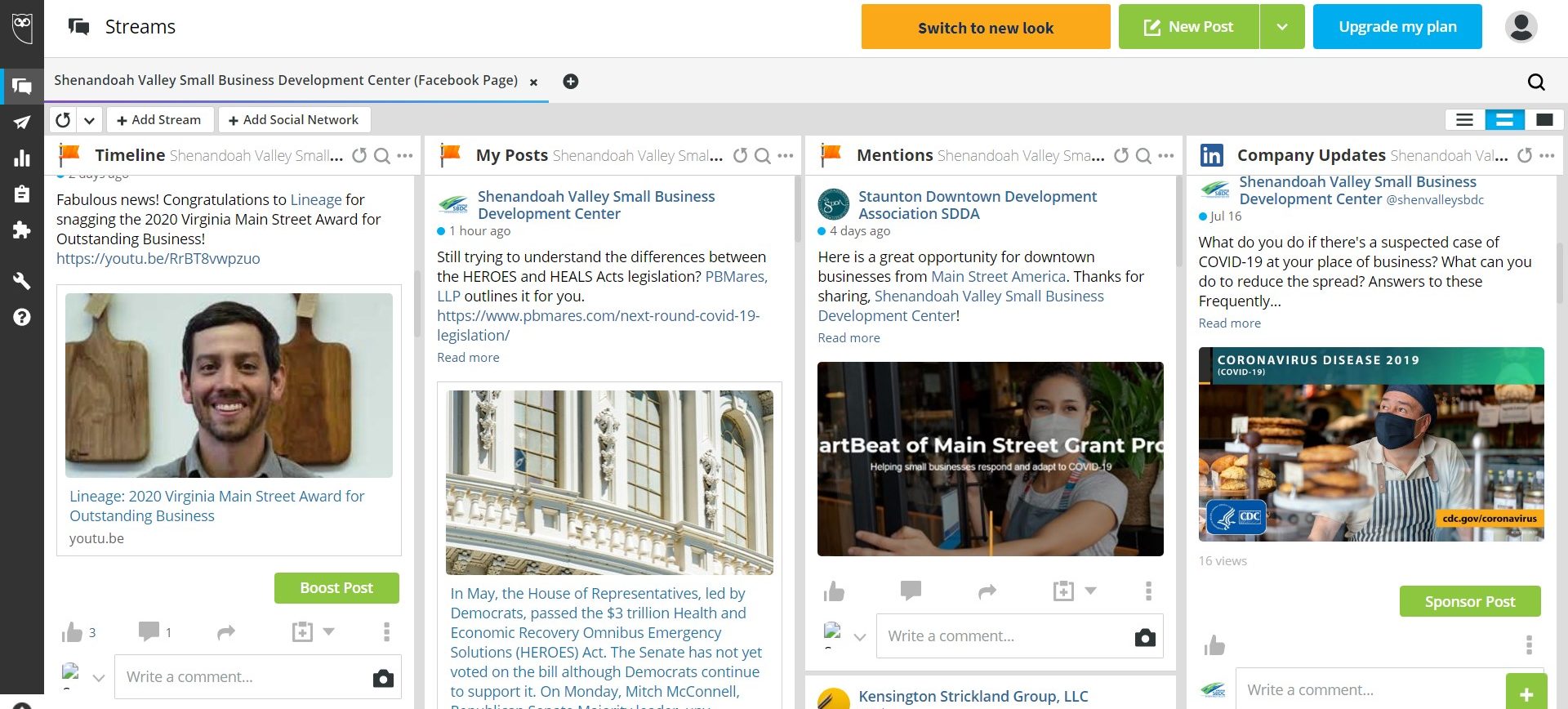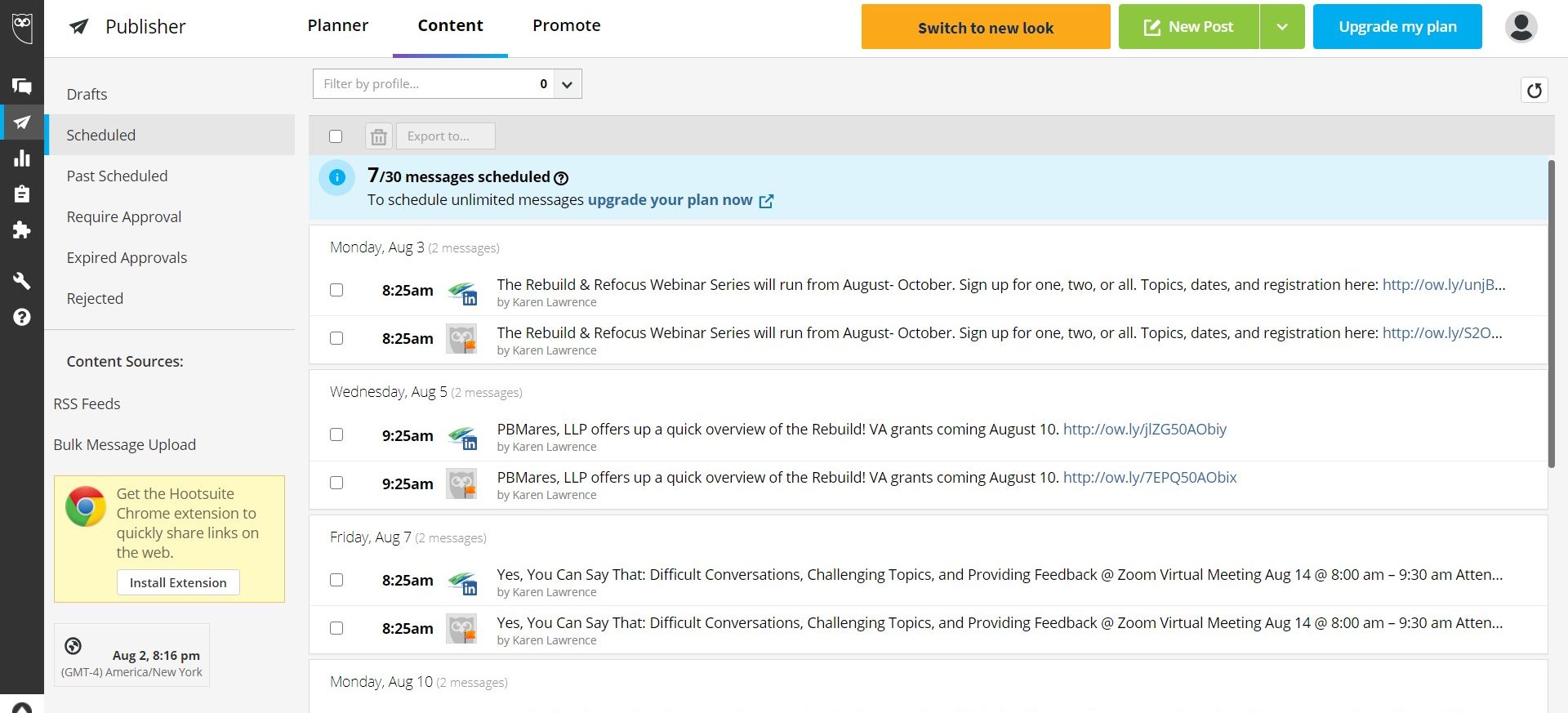 Include social media content creation and scheduling on your work calendar like other tasks, using shortcuts wherever possible.
Don't post separately in multiple places. Choose a content scheduler that suits your needs (free or paid). This article showcases 15 of the best.
Review your content categories and items you've saved, then organize them for posting. Write lead-ins that apply to your business for each item you want to use, paying attention to character requirements and image sizing.
Write any "sales" related content that needs to be included like new products, special deals, or upcoming events.
Make use of services like canva.com to make sizing and graphics for different types of posts easier.
Organize and enter content into the scheduler. This becomes your content calendar and dashboard for monitoring all things related to social media.
Measure success regularly. View your social channel analytics periodically to see what posts are working best and adjust your content accordingly.
Need a little more help in developing your own social media routine? Watch the Valley SBDC Events & Workshops page for upcoming trainings you can use.
https://www.valleysbdc.org/wp-content/uploads/2020/11/smedia-phone.jpg
767
1150
Karen Lawrence
/wp-content/themes/sbdc-enfold-child/images/sv-sbdc-logo-fixed.svg
Karen Lawrence
2021-03-19 10:53:24
2021-04-26 16:58:24
Never Enough Time for Social Media? How to Automate Effectively