GrowthWheel® is a visual toolbox for decision-making and action-planning for start-up and growth companies.
GrowthWheel helps you build or expand your business through a simple action-oriented process that stays true to the way most entrepreneurs think and work. The flexibility of the GrowthWheel toolbox allows us to choose and adapt just what is needed to meet your needs.
A 360° Perspective –  Everything about Business in one Toolbox.
GrowthWheel was designed around the observation that all businesses – in all industries and life stages – have four lasting challenges in common:  You must create an attractive Business Concept, build a strong Organization behind it, develop lasting Client Relations, and do it all while maintaining profitable Operations.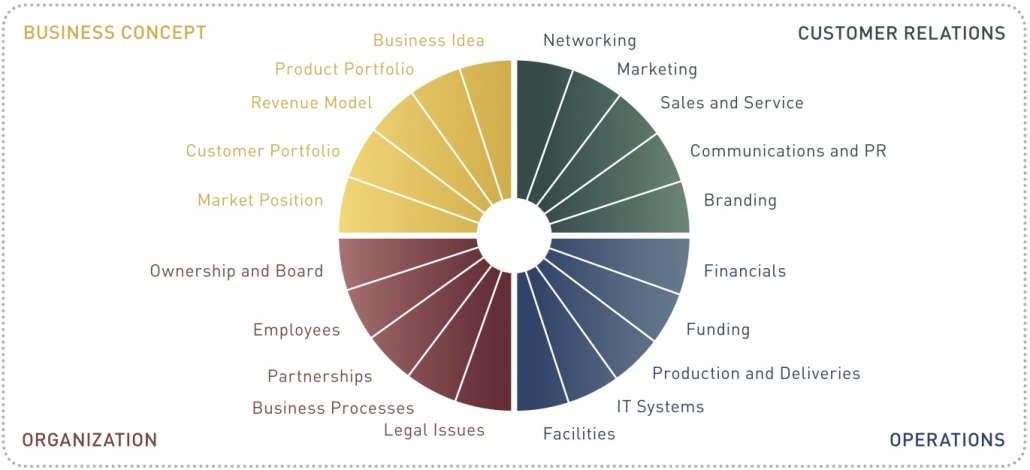 Within those four challenges, GrowthWheel provides 20 focus areas encompassing all you need to consider for starting, managing, and growing a business.
The GrowthWheel tools make it easier to understand the challenges. They inspire creativity, help you set agendas, make decisions, and take action. Finally, you'll have clear means to communicate those decisions to outsiders.
Your Business Decisions made Visual – and Practical.
Together, we'll draw up a visual profile of how your business is doing and identify future opportunities and obstacles.
Every tool in GrowthWheel is designed to work independently – use on your own or with your team.  Place it on the meeting table, on the wall, or share it on the computer – your business conversations can begin instantly.
Ask your SBDC Business Advisor about GrowthWheel and how it can help bring a new 360° perspective to your business planning, management, or expansion.