Mar
11
Wed
Build Business Local Search Presence! Google LiveStream event with Valley SBDC

@ JMU IceHouse
Mar 11 @ 11:30 am – 1:30 pm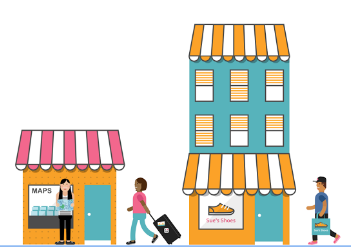 "Spring into Action" with Google's Business Insights tools.  
For Small Businesses and Non-Profits.  There are billions of local searches happening on Google everyday... Learn how to use Google Analytics to gain insights into how customers engage online. Learn best practices analyzing customer trends and turn these insights into actionable decisions.  
Join us in watching Google's LiveStream event focused on using Business Insight Tools, where experts will explain how to more effectively improve your presence.  Google will also introduce a new tool called Market Finder, which can help businesses identify new markets and customers.
After the Livestream presentation, we will hold a Q&A session. Bring your digital marketing questions because we always have lively conversations as we learn together!
Event starts at 11:30, LiveStream portion begins at 12 noon and will run until 1pm located in Room 117 at the JMU IceHouse located on 127 W. Bruce Street. Stop by the reception desk for a JMU parking pass.  Please Pre-Register here
Apr
8
Wed
Growth Opportunities with State and Federal Contracting

@ JMU Ice House
Apr 8 @ 9:00 am – 12:00 pm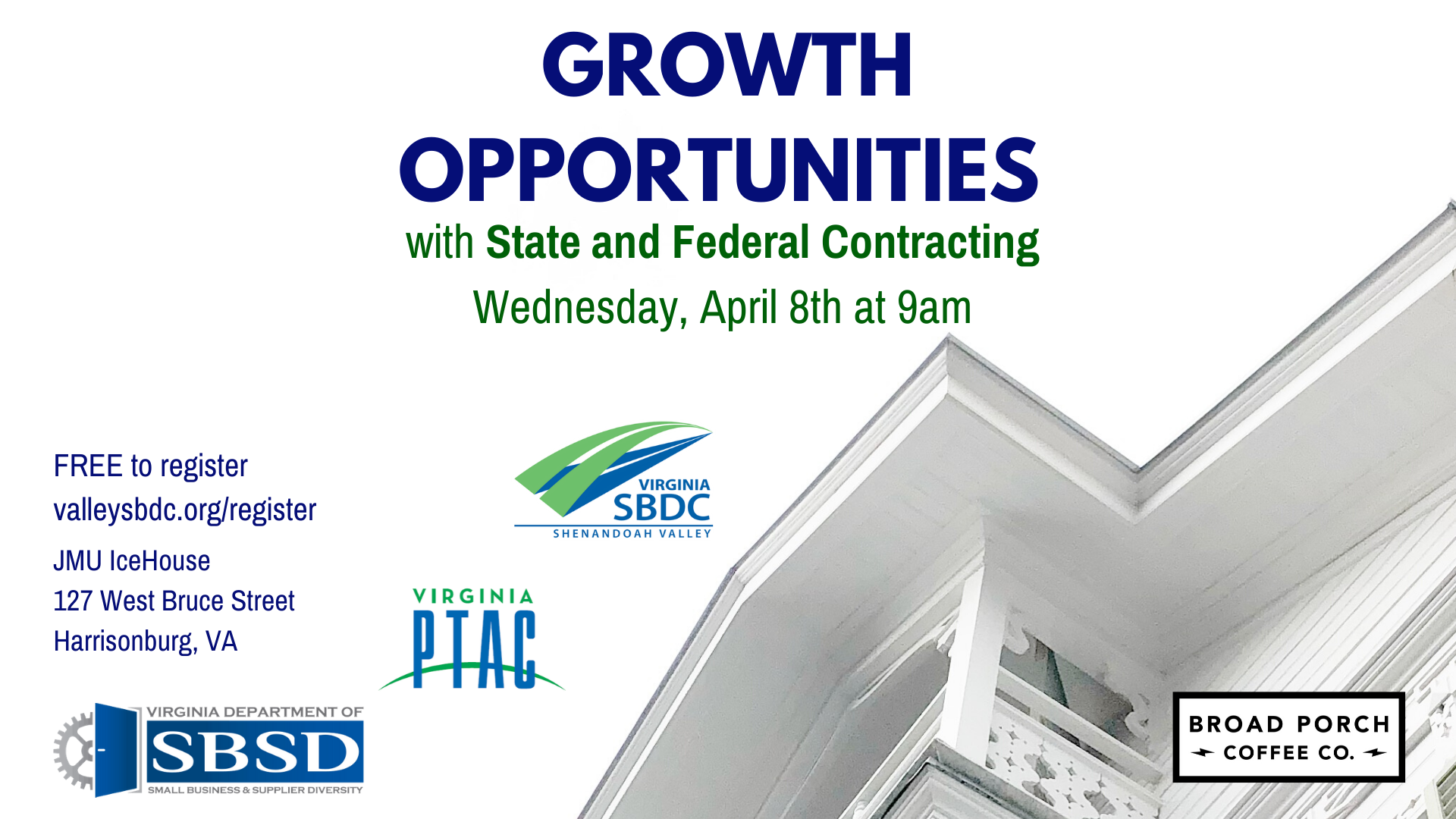 The Shenandoah Valley Small Business Development Center, the Virginia Department of Small Business and Supplier Diversity and the Virginia Procurement Technical Assistance Center present a high level overview of the free and valuable services provided to small businesses to contract with local, state and federal government.  Trades and Tech companies are encouraged to attend!
This half-day workshop is for small business owners who want to better understand their customer and develop a marketing strategy, find the right funding for expansion, and do business directly with the Government thru SWaM and eVA.
AGENDA
9:00  Sign-In. Welcome and Introductions.
9:15  What PTAC Does: Very not Scary. Statewide PTAC Director Lisa Wood brings us Federal Government Procurement 101
10:00 Virginia's Marketplace. Courtney Mustin of the Small Business and Supplier Diversity explains SWaM Certification and eVA.
10:45  Break
11:00  Find the Right Funding with Linda Gilbert of the Virginia Small Business Financing Authority
11:45  Q&A
No fee for the workshop, however advance registration is required. If you have any questions, contact Allison Dugan at duganaj@jmu.edu or call the Valley SBDC at 540-568-3227
There is no fee for the session, but we do need you to complete a Request for Counseling form (if you are not yet a client of the SV SBDC).  Questions?  Please call the Shenandoah Valley SBDC  at (540) 568-3227.
May
7
Thu
Trademark Basics: What Every Business Should Know Now, Not Later

@ JMU Ice House in Harrisonburg
May 7 @ 10:00 am – 12:00 pm
Join us for an overview of the use and protection of trademarks for your business:
-          How trademarks, patents, copyrights, domain names, and business names all differ.
-          Critical factors in selecting a trademark that will be federally registrable and legally protectable.
-          Clearance searches and whether to use an attorney, and impact of cease-and-desist letters.
-          Federal application process and the role of the USPTO.
-          How to avoid "scams" perpetrated by companies not associated with the USPTO
-          What happens after registration and how to keep a registration alive.
Craig Morris works within the Office of the Commissioner for Trademarks in the United States Patent and Trademark Office (USPTO), Alexandria, Virginia.  Currently, he is the Managing Attorney for Trademark Educational Outreach, spearheading the effort for increased USPTO educational activities in the area of trademark fundamentals.  For fourteen years prior, he was the Managing Attorney for the Trademark Electronic Application System, focusing on making the Trademark Operation a total e-government environment.  Mr. Morris has been with the USPTO since 1983, previously serving as a Law Office Examining Attorney, Senior Attorney, and Managing Attorney.