When:
October 27, 2014 @ 6:30 pm – 9:00 pm
2014-10-27T18:30:00-04:00
2014-10-27T21:00:00-04:00
Where:
Ice House
127 West Bruce Street
Harrisonburg, VA 22801
USA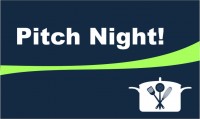 Pitch Night! is the chance to talk about your idea and get feedback from the community. Your 2 minute pitch will help us understand where you are in the process of building your business and assist in determining the scope of the Competition.  We must receive your registration form by October 20th for you to participate in October's Pitch Night!
Key elements of Pitch Night!
1) The Pitch: You have up to 2 minutes (60 seconds) to describe your idea. You can use visual aids (like a poster or collage, flyer or handout) and food samples are encouraged! Introduce your concept. What is the name of your business and where do you envision its location? Is it an expansion or a new idea yet to launch? Tell us about your target market.
2) After your Pitch: Question and Answer time! Two additional minutes per pitch of questions from the audience. Keep it brief so you can answer as many questions as possible.
3) Time for everyone to circulate and give direct feedback. Each pitch presenter will have a small area set up where attendees can visit with you, ask more questions or share ideas, leave written notes, and have great time networking!
Pitch Night! is:
A public event designed engage the community with you: the food-related business owners and entrepreneurs!
A great opportunity to introduce your product to potential buyers.
The chance for you to let us know what your biggest challenge is.  We are here to help!
Timed.  You have up to 3 minutes to present your idea to the audience.
Meant to help participants prepare for the Concept Plan Competition by giving you a wide range of helpful feedback.  You will leave with connections, fresh ideas, and more inspiration!
Pitch Night! is not:
An evaluation that leads to scoring for the Competition.  The Concept Plan Competition will be held in April 2015.
A presentation that you need to heavily prepare for.  It is meant to be fun for all, and to introduce the range of food-related business concepts to the community. Your Pitch will help us prepare relevant training sessions and develop a strong network of community and professional support.
Additional Information:
If we have more "Pitch" registrations than can comfortably fit into one evening, we''ll schedule another one!  The first Pitch Night! is scheduled on Monday, October 27th in the dynamic conference space on the first floor of the Ice House, 127 W Bruce Street, in Downtown Harrisonburg.
For questions, check the What's Cooking FAQ page, message us directly and we will respond to your inquiry, or call (540) 568-3227.  We enthusiastically look forward to your participation!
Registration Form can be downloaded Here