When:
March 20, 2018 @ 8:00 am – 3:00 pm
2018-03-20T08:00:00-04:00
2018-03-20T15:00:00-04:00
Where:
BRCC Robert Plecker Workforce Center
1 College Ln
Weyers Cave, VA 24486
USA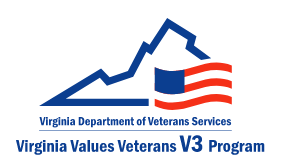 Hundreds of thousands of American service members will transition from active duty into the civilian workforce in the coming years. America's Veterans, including our serving members of the National Guard and Reserve, are highly-trained and well-educated professionals for competitive organizations like yours.
This event will serve employers who want to hire Veterans but aren't sure how, as well as small businesses who want to improve their understanding of the talents Veterans can bring to their organization.
During this free event, employers will learn why hiring Veterans will be the best business decision their organization can make, as well as gaining access to valuable resources to connecting directly with this population. This event is tailored to all employers needs and challenges.
We are very pleased to announce that this event will feature all of the training needed in order to become a V3 certified company! The opportunity to complete all of this training at once is rare and we hope that you will take full advantage!
TRAINING DAY HIGHLIGHTS:
- Learn how to become an Official V3-Certified Company
- This special all-day event will feature ALL of the courses needed to become V-3 Certified!
- Learn how your company may qualify for up to $10,000 in V3 Grants
- Includes Workbook with resources and tools
- Lunch and refreshments will be provided.
This event is being hosted by Blue Ridge Community College and the Shenandoah Valley Workforce Development Board.
Register Here:   http://Bit.ly/CVAMarch2018