Looking for the links to the SBA Coronavirus Relief Options ?
If you have Paycheck Protection Program questions, you might find your answer here:  federalregister.gov Changes to the paycheck-protection-program-additional-eligibility-criteria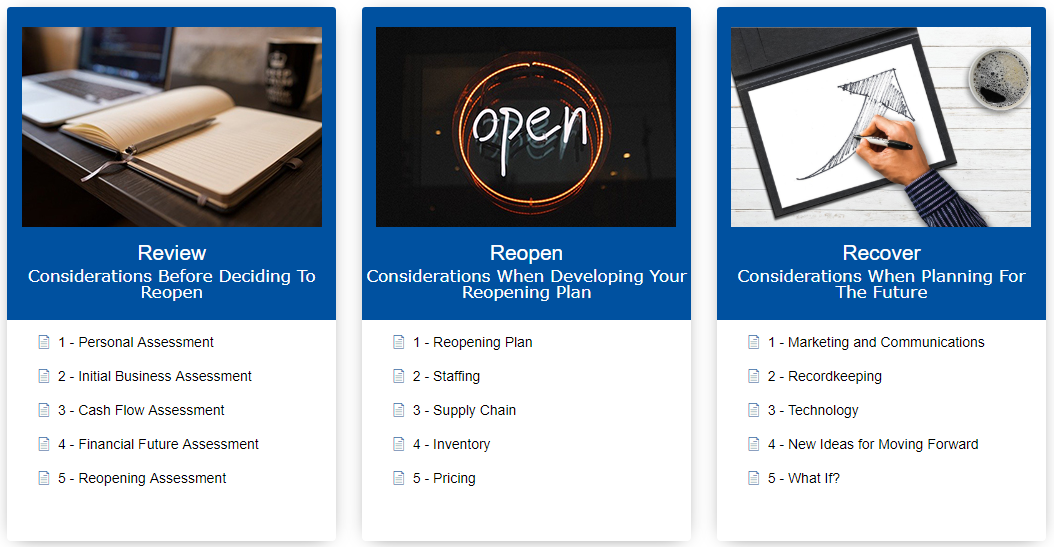 Review Reopen Recover Checklist
Guide to Conquering a Business Crisis
America's SBDC
Small Business Resilience Guide has some great materials including a Resiliency Guide, A Business Recovery Plan template, and an Emergency Procedures template.
Regional Small Business Funding Programs
Augusta County Disaster Relief Loan Fund
Small Business & Supplier Diversity  (Micro Loans and other programs)
Staunton Creative Community Fund is offering loans to small businesses through a disaster relief fund.
Waynesboro Economic Development has an emergency loan
Page County Economic Development "Small Business Strong"
Shenandoah County Disaster Impact Loan
Personal Protection Equipment, Signage and Supplies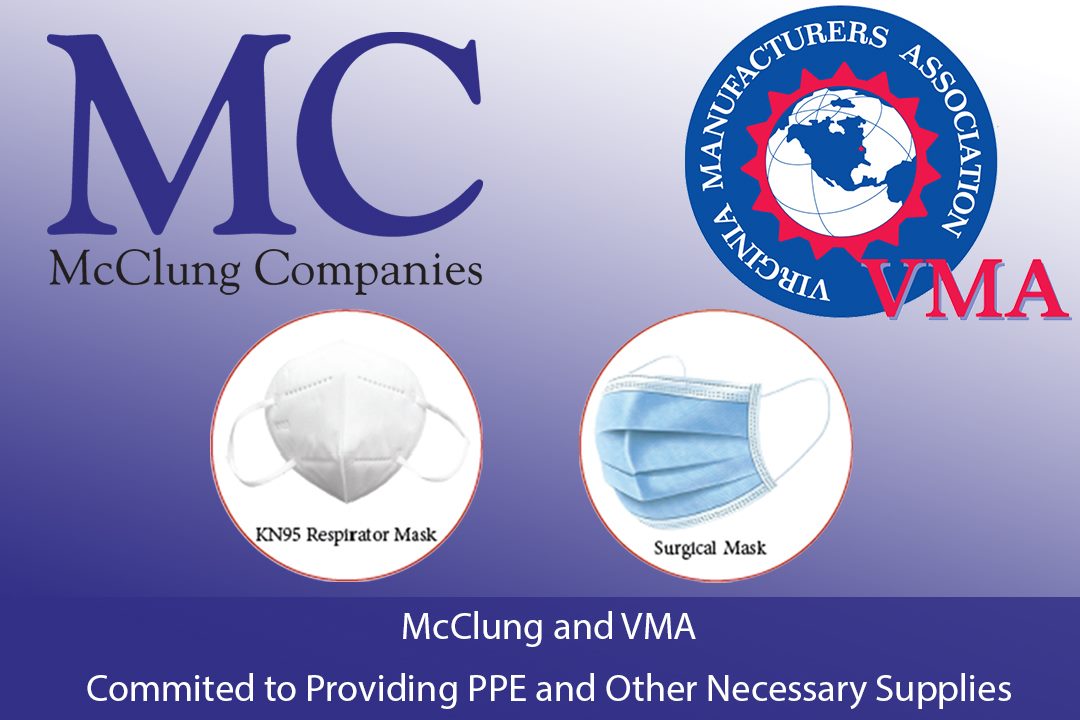 McClung Industries in partnership with the Virginia Manufacturers Association is committed to helping their clients and members by providing PPE and other necessary products to small businesses. They work to acquire equipment from reputable sources. Check out this page for Masks, Gloves, Sanitizer and other products here.
COVID-19 Federal Rural Resource Guide for Agriculture 
USDA and its Federal partners have programs that can be used to provide immediate and long-term assistance to rural communities affected by the COVID-19 outbreak. These programs can support recovery efforts for rural residents, businesses and communities through:
• technical, training, and management assistance;
• financial assistance; and
• state and local assistance.
This USDA_COVID-19_Fed_Rural_Resource_Guide and other federal resources that can help support rural America are categorized by customer and assistance type. For more information on the immediate actions USDA is taking to respond to COVID-19, visit usda.gov/coronavirus.
COVID19 Guarantee Loan Deferral Payments
All farmers and business owners can protect employees and customers by following local COVID-19 safety measures and current food safety standards. Expanding current safety practices can help slow the disease spread in the community and reduce working days lost due to illness. The Virginia Department of Agriculture (VDACs) website has many links to federal and state resources to help protect farms, industry and agribusiness operations.
IRS Tax Information
Coronavirus Tax Relief  Treasury and IRS Issue Guidance on Deferring Tax Payments Due to COVID-19 Outbreak
Retail Opening Guidelines
From the National Retail Federation: Operation Open Doors Checklist 
From the Virginia is for Restaurant Lovers website: The Virginia Restaurant Promise poster
Hospitality, Travel & Tourism
Best Practices for Retail Food Stores, Restaurants, and Food Pick-Up/Delivery Services During the COVID-19 Pandemic-
FDA Best Practices
National Retail Federation's Open for Business – A Blueprint for Shopping Safe-
Reopening Blueprint
The Virginia ABC website includes this comprehensive PDF document   
Virginia Tourism Corporation - Industry website
Virginia Restaurant, Lodging & Travel Association  
Restaurant Owner.com 
*Restaurant Owner is a great resource to the industry! The SV SBDC has a subscription with them and can access many tools and spreadsheets.  They have opened their site to non-members at this time and have been offering excellent webinars and live chats.
Human Relations, Employment and US Department of Labor
The Virginia Employment Commission offers Pandemic Unemployment Assistance  
*NEW:  Many businesses are having questions about classification of Employee vs Independent Contractor.  See IRS Revenue Ruling 87-41: The Twenty Factors
Many workers are affected. Here is an informative list of Frequently Asked Questions   PDF by Governor Northam
The U.S. Chamber has released a comprehensive resource kit for businesses. View the kit here.  
SHRM Coronavirus Resources – Resources to help you prepare your workforce for the possibility of business closures, working from home, quarantines and other outcomes of a disease outbreak.
Safety and Health Administration (OSHA's page on the Department of Labor website)
CDC Interim Guidance for Businesses and Employers
Virginia Department of Health Situation Summary – The Virginia Department of Health is continually updating its resources to include the latest numbers and information relevant to COVID-19 in the Commonwealth including guidance.
Marketing & Social Media Tips and Tools
Business owners often need to pivot to online sales, and have a need for a online shopping cart, inventory system, and payment gates - and need to hire a professional to weave that together for a website.
The Shenandoah Valley Tech Council membership directory has good local partners that can help!
Facebook for Business website has tips and resources to help small businesses deal with business interruptions such as the coronavirus pandemic, including a Small Business Grants Program 
Advice on Preparing a list of Frequently Asked Questions (FAQs) about how your business is operating during the pandemic
Business Resilience Toolkit – a booklet about preparing for a business interruption, and creating a resiliency plan
A Business Resilience Quick Action Guide
Online courses about how to communicate with customers and provide customer support during business disruptions
Google's Help Center has suggestions for businesses affected by the coronavirus pandemic, regarding updates to their business information on Google My Business, including:
Changing your business hours & updating your phone number if necessary
Adding information about how your business has been affected and what steps you're taking
Learn about Google's Remote Work hub, with tips about running online meetings, collaborating on documents remotely, and more.  Don't forget Google Hangout Chat and Google Hangout Meet
Content Marketing Institute (a personal favorite) Filled with articles and research on content development
Remote Apps
Are you cancelling an event or meeting? Consider hosting your event or meeting virtually using a free version of:
Other "Unique" Business Resources
Corona Virus Resources from IBISWorld. The Virginia SBDC Network subscribes to IBISWorld's market research tool.  Industry reports are made available to our clients upon request.
Resilience in a Box - A collection of resources based on best practices and designed to educate business leaders on disaster preparedness and business resilience. Focus on small businesses.
Public Private Strategies has curated a list of resources that have been made available by advocacy groups, technology companies, and federal, state, and local government agencies to help businesses and their workers maintain their physical and economic health during the coronavirus 2019 (COVID-19) outbreak.
The Central Virginia SBDC has developed a "Tips for Shipping Products from Home" 
How can I help others?
Please check our website in the coming days and weeks, and support those local businesses being affected by these recent circumstances. Unable to visit them in person? Check out their social media posts, promote their efforts and make plans to support their businesses in the coming weeks and months however and whenever possible.