Oct
8
Fri
Business Smarts – Find $$$ in Your Business in under 50 Minutes

@ Virtual Event
Oct 8 @ 9:00 am – 10:30 am
Business Smarts, October 8, 9:00-10:30am
Business Breakthroughs: How to Find $$$ in Your Business in under 50 Minutes
Many small business owners are in the fight of their lives. Everyday thousands of small businesses are closing, leaving talented business owners and their families suffering. Robert McFarland will show you a process that will find additional cash in hidden revenue in your business, without you spending an extra dime on sales or marketing. This presentation contains simple to understand, easy-to-apply, step-by-step, paint-by-number, online and offline tactics that can produce instant and dramatic revenue growth for any small business.
About the presenter: Robert McFarland is the author of the international best sellers, Dear Boss: What Your Employees Wish You Knew and Dear Employee: What Your Boss Wishes You Knew. He has extensive experience in leading organizations through strategic planning, speaking to large and small audiences, training organizations through lecture and experiential methods, and coaching leaders through change. Over the years, he has been a plenary or workshop presenter at many national conferences. Robert is also a regular contributor to the Daily News-Record.
This event is free, but registration is required: https://us02web.zoom.us/meeting/register/tZAkf-CtqT8rGNSmtqP_JpWkyd-2obD2o5aY
Sponsored by:

Nov
12
Fri
Business Smarts – Meet Your BEST Advocates

@ Virtual Event
Nov 12 @ 9:00 am – 10:30 am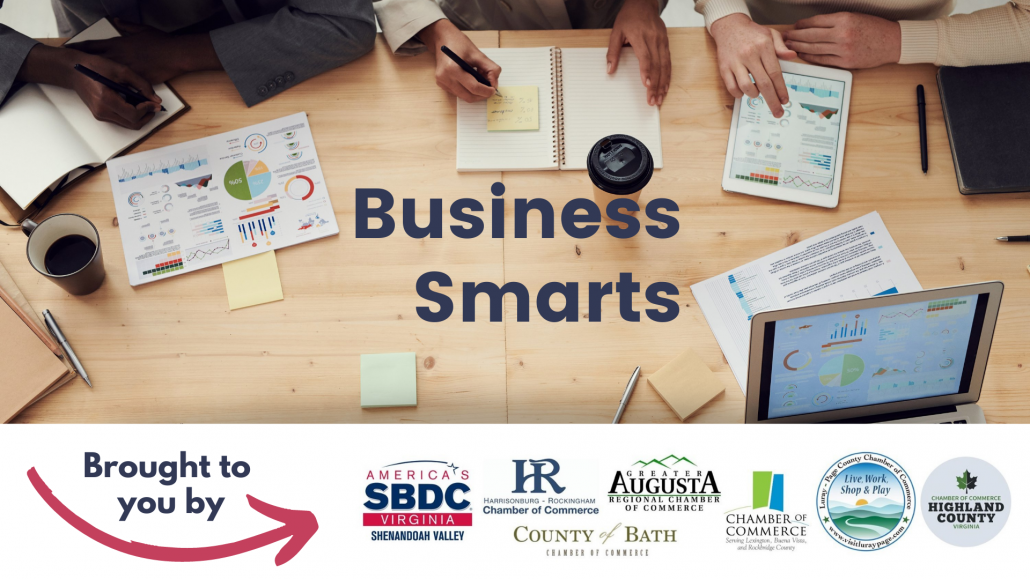 Join us for a lively and informative dialog with some of your business's best friends – and our Business Smarts partners – the local Chambers of Commerce. Each of these institutions exist to serve your needs and help you access the many resources available to you. Meet the Chamber representatives, learn about some of their upcoming events and initiatives, and ask all the questions you want. We'll have an opportunity to meet as one large group but also is smaller break-out rooms where you can pop in and out to meet as many people as you wish.