Dec
7
Tue
Managing Your WordPress Website Bootcamp
Dec 7 @ 2:00 pm – 3:00 pm
Join us and learn how to create and/or better manage your WordPress website!
Are you looking for a simple, yet effective website to use for your business? WordPress might be a good option! In this workshop, we'll cover "the basics" on creating and updating a WordPress site, including:
User management
Page creation and editing
Image and video uploads
Plugin management
Linking to social media
A confirmation email with the Zoom login information will be sent after registration, please be on the lookout for it.
---
Instructor: Cameron Nelson, Chief Digital Advisor, Virginia SBDC and CV SBDC
Mr. Nelson has over 18 years experience in technology, and as a senior tech consultant in Silicon Valley helping Fortune 500 companies improve their digital marketing and eCommerce. At the same time he founded several tech companies, including a SaaS website for tree preservation and a blockchain platform for nonprofits. Cameron is accomplished in language, culture, has an MBA and MA and believes new technology products have the ability to help shape our world for the better.
Dec
8
Wed
Craft Beverage QA/QC: Best Practices for Safeguarding Product Quality
Dec 8 @ 10:00 am – 11:00 am
There are many reasons for a craft beverage producer to invest in quality – catering to a more demanding consumer base, staking out a competitive edge, preparing for more distant distribution – but determining how to implement QA/QC can be difficult.  In this webinar, Virginia SBDC Craft Beverage Assistance Manager Chris Van Orden will speak with Audrey Skinner, Gastronomical Chemist and Founder of Imbibe Solutions, about the steps that planned, new, and growing beverage producers can take to safeguard quality, improve product stability, and lengthen shelf-life.
Webinar presented by The Virginia SBDC Craft Beverage Assistance (CBA) program. Visit the CBA program page for more information.
---
Audrey Skinner is a Gastronomical Chemist and Founder of Imbibe Solutions, an independent laboratory that works with craft alcohol businesses to supplement and enrich their quality control programs. She has helped many brewers, winemakers, and other craft-fermenters improve processes, ensure product stability and cleanliness, expand shelf-life, and enhance overall product quality. Her goal is to provide small-scale craftsmen with beneficial, quantifiable data so they can be competitive in the growing marketplace.
---
A confirmation email with the Zoom login information will be sent after registration, please be on the lookout for it.
Dec
14
Tue
Start Smart Workshop

@ Virtual Webinar
Dec 14 @ 2:00 pm – 4:00 pm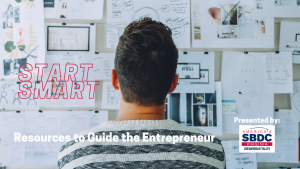 Our Start Smart Workshops discuss the path to good decisions and a successful start. You'll learn to take a thorough 360° approach to your business and all its components – from product development to target markets to financial projections. We'll also cover the regulations and registrations you need to know.
Follow-up appointments are then available with SBDC business advisors to focus on your individual business growth needs.
NOTE: This is a live, online webinar. Registration is required IN ADVANCE. When we receive your registration, we will send you the Start Smart Workbook and Zoom login link.