Nov
1
Tue
Sell Online with E-Commerce Tools

@ Virtual Webinar
Nov 1 @ 11:00 am – 12:00 pm
Learn how to sell your products online. We'll walk through listing your products for free with your Google Business Profile and Merchant Center. In this workshop, we'll:
– Discuss the Products tab in Google Business Profile
– Introduce Google Merchant Center and the basics of creating a free account and a product feed
– Show you how to connect an E-Commerce website (using Shopify as an example) to the Merchant Center
Presented by Grow with Google speaker, Randi Penfil
Thanks to Shenandoah Valley SBDC, Capital Region SBDC, Central Virginia SBDC, Laurel Ridge SBDC, SBDC Lynchburg Region, and Virginia State SBDC for hosting this webinar along with Grow with Google.
Nov
10
Thu
All you need to know about the SBDC to grow, build, or expand your business

@ Virtual Webinar
Nov 10 @ 12:00 pm – 12:45 pm
Presented by Virginia SBDC Inclusivity Ambassador, Dr. Hope Murphy. This 45-minute informal information session will help you to get the most out of SBDC RESOURCES, programs, and networks in support of your small business.
As the largest small business support program in the country, the SBDC offers the services that small business owners need to succeed such as:
Small Business counseling (free)
Specialty programs (free)
Access to business data and information (free)
Cybersecurity training
Small business loan process
Training
After this session, you will know what is available, how to access it, and how to make the most of your free counseling sessions with the SBDC.
About the Presenter
Dr. Hope Murphy specializes in connecting business owners with the resources needed to build their businesses. Her experience includes providing business counseling to veterans through the Veteran's Business Outreach Center and counseling/training entrepreneurs at the Women's Business Center.
While Dr. Murphy counsels all small business owners, her passion is to provide business counseling that supports the unique needs of minority business owners.
Dr. Murphy is a small business owner and she provides diversity and inclusion training to organizational leaders and their teams. She and her family live in Stafford, Virginia. hmurph3@gmu.edu
---
A confirmation email with the Zoom login information will be sent after registration, please be on the lookout for it.
Nov
14
Mon
Start Smart Workshop

@ Virtual Webinar
Nov 14 @ 10:00 am – 12:00 pm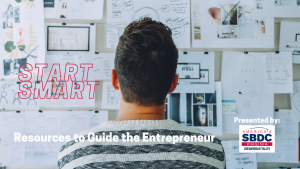 Do you reside in the Shenandoah Valley area of Virginia and are thinking about starting a new business?
Do you have questions about how to move forward? Are you considering moving your hobby into a more structured business form? Have you already started your small business and now realize you may have missed a few things?
Your Shenandoah Valley SBDC has answers, information, and resources to help!
In our Start Smart Workshops, we discuss the path to good decisions and a successful start. You'll learn to take a thorough 360° approach to your business and all its components – from product development to target marketing to financial projections and bookkeeping. We also cover the regulations and registrations you need to know.
Follow-up appointments are then available with SBDC business advisors to focus on your individual business growth needs.
Note that this is a live, on-line Webinar.
Fee: No Cost