Feb
21
Tue
Grow Your Business with Digital Marketing

@ Virtual Webinar
Feb 21 @ 1:00 pm – 2:30 pm
Updated for 2023
Businesses need to understand the basics of digital marketing now more than ever, because digital marketing creates growth.
Learn about the basics of digital marketing, including:
Social Media
Email Marketing
Paid Ads
SEO
Affiliate Marketing
How to use analytics to measure your success
A confirmation email with the Zoom login information will be sent after registration, please be on the lookout for it.
---
Instructor: Cameron Nelson, Chief Digital Advisor, Virginia SBDC
Mr. Nelson has over 18 years experience in technology, and as a senior tech consultant in Silicon Valley helping Fortune 500 companies improve their digital marketing and eCommerce. At the same time he founded several tech companies, including a SaaS website for tree preservation and a blockchain platform for nonprofits. Cameron is accomplished in language, culture, has an MBA and MA and believes new technology products have the ability to help shape our world for the better.
Fee: No Cost
Feb
23
Thu
Start Smart Workshop

@ Virtual Webinar
Feb 23 @ 2:00 pm – 4:00 pm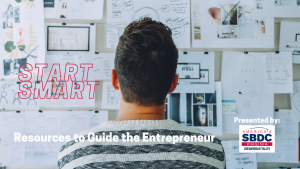 Do you reside in the Shenandoah Valley area of Virginia and are thinking about starting a new business?
Do you have questions about how to move forward? Are you considering moving your hobby into a more structured business form? Have you already started your small business and now realize you may have missed a few things?
Your Shenandoah Valley SBDC has answers, information, and resources to help!
In our Start Smart Workshops, we discuss the path to good decisions and a successful start. You'll learn to take a thorough 360° approach to your business and all its components – from product development to target marketing to financial projections and bookkeeping. We also cover the regulations and registrations you need to know.
Follow-up appointments are then available with SBDC business advisors to focus on your individual business growth needs.
Note that this is a live, on-line Webinar.
Fee: No Cost
Feb
28
Tue
Trademark Basics

@ Virtual Webinar
Feb 28 @ 12:00 pm – 1:00 pm
Join us for a discussion about what all entrepreneurs, small businesses, and start-ups should know about trademarks. We'll discuss what trademarks are, the benefits of federal trademark registration, and the basics of the registration process. We'll also talk about why it's so important for any new business to select a trademark that is both federally registrable and legally protectable.
We'll close out the discussion with a question-and-answer session and direct you to free resources from the USPTO.
Webinar presented in collaboration with the United States Patent and Trademark Office.
A confirmation email with the Zoom login information will be sent after registration, please be on the lookout for it.
Speaker(s): Mariessa Terrell – Trademark Examining Attorney. Mariessa began her trademark law career at the USPTO in 2000. After her departure from the USPTO, she worked as a solo trademark practitioner; in-house trademark attorney consultant for Lockheed Martin and Leidos Corporations; and trademark and fashion law professor at her alma mater Howard University School of Law (HUSL). In 2015, Mariessa was recruited to manage the USPTO Trademark Law Clinic at HUSL and was instrumental in helping to develop a Patent Clinic at HUSL in 2019. Mariessa returned to the USPTO in 2020 and currently works as a trademark attorney advisor in the office of Trademarks Customer Outreach where she delivers to experienced practitioners educational content on advanced trademark topics. She earned her J.D from Howard University School of Law; her B.A., magna cum laude, from Pace University in New York City; and is admitted to the Maryland and District of Columbia bar associations.