Sep
12
Mon
Virginia is for Craft Beverage Lovers: How Producers Can Leverage VTC Resources

@ Virtual Webinar
Sep 12 @ 2:00 pm – 3:00 pm
In every corner of the Commonwealth, there's a great brewery, winery, cidery, or distillery capable of attracting tourists, but they don't have to do it alone – the Virginia Tourism Corporation is here to help. Through grants, research, and other helpful resources, the VTC can support small businesses looking to bring in visitors from Virginia and beyond.
In this webinar, the Virginia Tourism Corporation's Partnership Marketing Grants Manager Staci Martin will share details on the many VTC resources available to craft beverage companies, including the Microbusiness Marketing Leverage Program, closing on September 20th. Register today to learn how you can bring more visitors to your business.
Speaker(s): Staci Martin is the Partnership Marketing Grants Manager for the Virginia Tourism Corporation, where she manages a variety of grant funding programs that assist Destination Marketing Organizations, tourism development, and the tourism industry in Virginia. Staci is also Adjunct Faculty at Old Dominion University in the English Department and in Park, Recreation, Tourism Studies. Previously, she served as Senior Destination Development Specialist with VTC specializing in tourism economic development and marketing in the coastal Virginia region assisting both established and emerging destinations.
Sep
15
Thu
Start Smart Workshop

@ Virtual Webinar
Sep 15 @ 10:00 am – 12:00 pm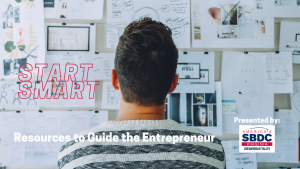 Do you reside in the Shenandoah Valley area of Virginia and are thinking about starting a new business?
Do you have questions about how to move forward? Are you considering moving your hobby into a more structured business form? Have you already started your small business and now realize you may have missed a few things?
Your Shenandoah Valley SBDC has answers, information, and resources to help!
In our Start Smart Workshops, we discuss the path to good decisions and a successful start. You'll learn to take a thorough 360° approach to your business and all its components – from product development to target marketing to financial projections and bookkeeping. We also cover the regulations and registrations you need to know.
Follow-up appointments are then available with SBDC business advisors to focus on your individual business growth needs.
Thank you for your registration to Start Smart Workshop via Zoom Time: September 15th 10:00am. Please find the Zoom link and review PDF Workbook attached in the reminder email 48 hours in advance. Please let me know if you are unable to attend or have questions via email to duganaj@jmu.edu
Thank You! Allison Dugan, Shenandoah Valley SBDC
The Truth About Employee Retention Tax Credits

@ Virtual Webinar
Sep 15 @ 2:00 pm – 3:00 pm
There have been a lot of ads and articles recently, including phone calls to small businesses, about the Employee Retention credits and the ability to receive up to $26,000 per employee. Is this for real? Is it a new credit for small businesses? Hear the facts before you sign up for one of these services that might charge you up to 30% of your credit.
This session is for:
Small businesses that were in business and had W2 wages prior to Feb 16, 2020
Started a new business after Feb 15, 2020 and had W2 Wages prior to December 2021.
In this session we will discuss what is the ERTC (Employee Retention Tax Credit)
How to determine eligibility for the ERTC
How to calculate the amount of ERTC
How to apply for the ERTC
How to utilize both the PPP and ERTC
The latest updates on this program and deadline.
You may be missing out on some big money so don't miss this presentation.
Note: This session is only for businesses that are located in Virginia.
Speaker(s): Tom Tanner, Lead Advisor and IRS credentialed Enrolled Agent
Fee: No Cost